Farid Kheradmand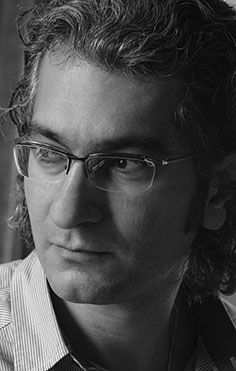 Farid Kheradmand is an Iranian Tombak and Setar player and composer. Graduated of industrial engineering, he started his musical education when he was 10 with learning Tombak playing and singing with Abbas Dabestani. Later he learned the contemporary styles of Tombak playing with Jamshid Mohebbi and the Radif and Setar playing with Ali Bayani and Majid Kiani. He completed his musical education with learning Tadjik musical system with Abdolwali Abdorashidov, Setar technics with Daryush Talai and Jean During, Tombak playing with Djamchid Chemirani and Iranian ancient music with Arash Mohafez.

Kheradmand has made a lot of contributions to the field, rangingfrom research on the domain of rhythm and meter in old treatises and its presence and effect on neighboring cultures to compiling Old Iranian tasnifs and zarbis as well as composing and teaching music.

Many of his works have been published, a prominent example of which is Sepehr-khani, a different project performed by Sepehr Ensemble which won the first prize at Baku Internatinal Muqam Festival on 2011. The last artwork of him, Khojasteh, an Iranian Neo-classical Music performed by Sepehr Ensemble has been published by Mahoor Institute of Culture and Arts on 2018.
Artistic Activities
ü Winner of Honor Diploma for researching on fundamentals of Iqae Cycles in The first Music Festival of Universities Students of Iran, Tehran, April 1998.
ü Winner of Honor Diploma for researched article: "Esthetic of Cycling System in Persian Music" in The Second Music Festival of Universities Students of Iran, Tehran, March 1999
ü Teaching playing of Zarb (Tombak) in cultural – artistic centers as following:
- Center of Preservation of Persian Music 1991- 1992
- Artistic Activities Office of Culture and Islamic Guides Office of Semnan 1998 – 2000.
- Artistic Activities Office of Culture and Islamic Guides Office of Garmsar 1999
- Private Teaching, 1994 until now
- Editing and Graphical designer of book of Maghased ol Alhan by Abdolqader Maraghi
ü Playing Tombak, Setar and singing Tasnifs with Sepehr Music Ensemble since 2005.
ü Publishing Cds And Learning Book for Tombak.
ü Performing more Than 100 Concerts.
Official Activities
ü Regular member of Center of Preservation and Research of Persian Music (depended to IRIB), since 2000 till 2005.
ü Regular member of Researchers Department of Iran Music House, since 2001.
ü Artistic advisor of International Festival of Ney(Pipe). Niavaran Artistic Creations Foundation (NACF), September 2004
ü Teacher of Soureh University, Since 2005 till 2007.
ü Teacher of Tehran University, 2016.